EPK: Get down with HUDSON HORNS
the BIO: BRASS BEATS
Hudson Horns, LLC was born from the famous underground Daybreaker parties 5 years ago and has grown into one of the most sought after brass bands in NYC. Professional trained, fused with their love of music, the HH band members excel in sound, creativity and performance. Booking private events nationwide and overseas, Hudson Horns, LLC is giving parties what they need - an on-point, interactive and unique experience that gets everyone on the dance floor and begging for more. Hudson Horns LLC is comprised of 3 groups: HH DJ, HH Brass and the large-scale, HH Collective .
Led by Band Director, Jake Kenowitz, Hudson Horns is comprised of professionally trained musicians from renowned programs such as The New School, University of Michigan, Julliard, Harvard, The University of The Arts, and Manhattan School of Music. Hudson Horns artists have collaborated with the music industries leading performers such as Rihanna, Solange, Ricky Martin, Joe Jonas, Dave Chapelle, The Legendary Johnny O'neal, Roy Hargrove, and The Skatelites.
the LOOK: Swagger & Vibe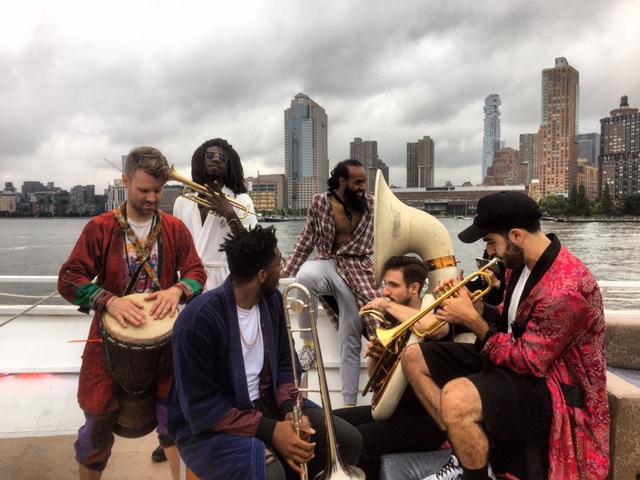 the CLIENTELE: "oh my god,That band"
Hudson Horns was hands down the most amazing part of our wedding day. We have had all of our wedding guests still saying "that was a once in a lifetime experience" and "it felt like a movie."
Something critical to note: when you book the Hudson Horns, you're not just booking a group of incredibly talented musicians, you're booking a vibe. The vibe these guys bring everywhere they go is palpable. All smiles, killer dance moves, and an interactive experience that will get your grandma on the dance floor. People won't shut up about them, and I mean that in the best way possible.
Our goal for our wedding was a sweaty dance party and we definitely got it.
Your performance - your talent, your energy, your personality - electrified everyone within earshot. Pretty much every conversation we've had with those who were there includes variations of "Oh my god, the BAND!". "They were hands down the best I've ever heard" and "where can I see them again?"
Contact
jake@hudsohorns.com
rachel@hudsonhorns.com
203-442-3197
Hudson Horns is available for public and private events.